Dedicated to all those waiting at the Rainbow Bridge
Boef
June 1, 1986 - January 2, 1999
"Even though we are apart, you'll live forever in my heart."
My Sweet Boef
For 12 1/2 yrs. you gave me endless Love, without demands,

just kissing my face,and licking my hands.

The last 9 months the seizures came, but they didn't matter,

I loved you even more , and helped you to feel better.

But then your body told you, the time had come.....you could not stay,

you left for the Bridge, a beautiful place, far far away.

Now you are gone.....I know you wanted to go,

I know that you are happy......but I do miss you so.

If I could ask for just one thing, I most sorely miss,

it would surely be, to have once more....a Sweet Sweet Boefer Kiss.
Waiting for Dory ,Dal Pal Ciss
Tristan
(Seathwaite's Yorkshyr Tristan)
February 12, 1992 ~ January 6, 1999
Waiting for Laurie
Casey
March 20, 1996-Jan 7, 1999
"We miss that special gleam in your eye. You're in our hearts daily."
Waiting for Becky
Nicholas
July 3, 1988-January 14, 1999
Waiting for Stephanie and Kathy
Homes
January 15, 1999
Waiting for
Stephanie and Kathy
Max
August 15 1995 - January20. 1999
My best friend, you validated me for all the lovely qualities you believed I had.
It would have been such a great loss in my life had I not had you for a friend
Waiting for Andrea
Bandit
Waiting for Jennifer
Schwannoma
Ocotober 18 1997-January 1999
My beloved Schwannoma, you gave so much and asked for so little in return.

You helped me to heal, brought me new friends and gave your love

so freely. I miss you every day and you will live in my heart forever.

"This is courage.. to bear unflinchingly what heaven sends""
Euripides
Waiting for Cindy
Tribute page
A million times I will miss you!

A million times I will cry,

If love alone could have saved you,

You never would have died

In life I loved you dearly,

In death I love you still,

In my heart you hold a special place

No pup will ever fill.

It broke my heart to lose you,

But you did not go alone,

For part of me went with you

The night God called you home.

Your precious memory is my keepsake,

With which I'll never part,

God has you safe in His keeping,

But I'll have you forever in my heart.
February
Geistvoll Gutenschniken
Schniken
October 4, 1984 - February 1, 1999
"You were always such a good friend to our epileptic, Korie.We cherish all
the wonderful years we had together. The great memories will be with us
forever. We miss your "smile", Schniken!"
Waiting for Kathi and Roy
Amber

February 6, 1999
Waiting for Christina
Melody

February 18, 1999
Waiting for Christiane
Doofie

February 16, 1995- February 13, 1999
"Wait for us in Heaven, Doofie"

Waiting for Susan and Heath
Jake

September 1995 ~ February 23, 1999
"If I die before I wake, please feed Jake"

Waiting for Jane & Kendall
Max
December 3, 1987 - February 24 1999
"We'll miss you Maxxie, you taught us so much with your gentle spirit

There will never be another like you"
Waiting for Sarah and Bill
Cooper
February 25, 1999
Waiting for Pat
Mozart
February 25 1999
Waiting for DJ
Do not stand at my grave and weep

I am not there, I so not sleep

I am a thousand winds that blow

I am the diamond glints on snow

I amthe sunlight on ripened grain

When you waken in the morning's hush

OI am the swift uplifting rush

of quiet burds in circle flight

I am the stars that shine at night

Do not stand at my gravve and cry

I am not there, I did not die
Anon
March
Shadow
March 1, 1999
Waiting for Sabrina
Peanut/Abbey
March 2, 1999
Waiting for Tibbie and Jenna
MoJo
March 3, 1996 - March 3, 1998
We shared our lives together and now we share the same heart.
"Together forever"
Suzie
March 6, 1999
Waiting for Julie and Steven
Sophie
December 1, 1994 - March 6, 1999
Waiting for Tom and Pam
Buddy
November, 26 1992 - March 21, 1999
CGC and Therapy Dog International
"Farewell My Sweet Prince"
Waiting for Patty, Helen, Frankie and the other 4 Siberians
Emily
March 19, 1999
Waiting for Barb
Noelle
October 2,1995 - March 11, 1999
Waiting for Laura and the Family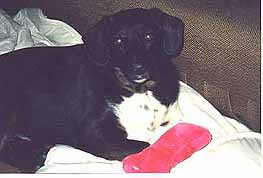 Kirby
June 17, 1995 - March 11, 1999
"Kirby you were and always will be my best friend. I loved you more than lifeitself. You were and always will be the light of my life. Right now that light is no more, until you and I meet again then once again it will be shining brightly. Rest well my dear friend and know that it is not goodbye, it is see you soon. I only wish you didn't have to suffer as much as you did, if I could I would have felt the pain for you. Sometimes at night I feel your head on my pillow. I know that you will always be close to me, watching over me. Mommy will see you soon! Now go play ball
Waiting for
Donna
Von Ri Summer Snow CD
June 22, 1986 - March 15, 19
Waiting for Vonnie
Derby
March 11, 1997 - March 23, 1999
"We miss your joyful exuberance
Daan
April 30, 1996 - March 29, 1999
Waiting for Christa and Jan
I got to the gate of heaven today

after we said goodbye,

I began to miss you terribly

because I heard you cry.

Suddenly there was an angel

and she asked me to enter heaven's gate

I asked her if I could stay outside

for someone who would be late

I wouldn't bark or howl,

I'll only wait her patiently

and play with my tennis ball

The angel said I could stay right here

and wait for you to come.

Because heaven just wouldn't be heaven

if I went alone.

So I'll wait right here, you take you time

but keep me in your heart

Because heaven just wouldn't be heaven

without you to warm my heart
Anon
April
Rogi
April 1992 - April 1999
What I miss most is your exuberant greeting at the door when I arrive home. How loved I always felt to see that happy smile and wagging tail when I had been away for even a few minutes. When I get where you are that same exuberant greeting will let me know I've finally come home for real. But don't spend your time waiting at the door. Run and play, have fun and be healthy. Rogue. I'll do the same here in your memory and in faith we'll run and play together again some day. I love you , Mommy
Waiting for Sharon, Gary, Ariana and Daric
Zooey
August 3 1991 - April 8, 1999
Zooey, your love was always unconditional.

You will hold a special place in our hearts forever!

With Love, Yvonne and Curt (Mommy and Daddy)

and "brother" Rufus( non epi Corgi mix)
Waiting for Yvonne and Curt
Kelley's Beloved Shakti
Beatrice Ann
September 4, 1993 - April 12, 1999
Died as a result of liver disease
"Beaser"
Even now I see your shadow self in the places you used to be.

Standing at the front door looking out

Peeking over the foot of the bed, ready to climb the stairs

Putting your little face in my face to wake me in the morning

Curled up on your pillow on the counch

Walking in the yard with your head bobbing up and down.

In the doorway of the kitchen, waiting for food.

Lying in the sunshine while I work on the computer.

Cradled in Dad's arms, biting his nose ever so gently.

Spreading your legs to have your tummy tickled

Carrying your favorite bone around the house.

Snitching treats from the older dogs.

Bringing out a mouthfuil of munchies to share.

I miss you so much my sweet little dog girl, we all do.

Sometimes when I 'm alone, I call out your name just to hear the sound

Beatrice! Absent from our lives but forever in our hearts.
Waiting for Dawne and Bill
and her dog family, Kelly, Sam, Pi and Buddy .
May
Max
February 24, 1992 - May 22, 1999
Goodbye Max, you were my best friend and buddy.

I hope you are happy where you are and have met up with Jack and Barney

So long pal, I miss you.
Waiting for Jeff
Memorial Tribute
Misimuri Annabelle CGC
Anna
March 4, 1993 - May 26, 1999
My sweet " Anna Banana Girl" we miss you so much
Waiting for Judy and Jim
Jesse
May 27, 1999
Waiting for Jill
Maestro
May 1999
Waiting for Thereze
Mason
June 24, 1997 - May 28, 1999
Maemae, your mama and daddy love you so very much, and thank you for teaching us about unconditional love. You were so brave so perfect so loving, and we were so happy you are finally oout of pain. You will always be in our hearts and souls and also your big brother Buster's. May you have a full shed of basketballs to play with, butterflies to chase, and lots of soft pillows and blankies to snuggle with. We will meet you one day at the Rainbow Bridge.. Never to forget our perfrct Angel Dog .. Mamae
Waiting for Kristen and Scott
June
Alfred
May 9,1986-June 8,1999
"He was a very happy camper"
Waiting for Sandie,Darrel and Rufus
Max
Feb 2,1991-June 10, 1999
Waiting for Lynda Brian, Steven and Graeme
Rufus
June 16, 1999
Waiting for Gloria
Jess
June 23, 1999
For Jess, loving and gentle she gave me everything, and is missed so very much. Her book has not yet closed-She has just passed on to another chapter which one day I too will be able to translate. With thanks for allowing me to share you life
Waiting for Melaine
Jake
Rescued 1996-June 24, 1999
"We have a secret you and I

that no one else shall know.

for who but I can see you lie

each night in the fire glow?

And who but I can reach my hand

before we go to bed

and fee the living warmth of you

and touch your silken head?

And only I walk woodland paths

and see ahead of me

your small form racing with the wind

so young again and free.

And only I can see you swin

in every brook I pass

and when I call, no one but I

can see the bending of the grass
ANON
Waiting for May and Barry
Wolfgang
June 25, 1999
Wiaing for Pamela
Peer Gynt's Miles
Miles
September 24,1993 - June 27, 1999
Toshi
September 23, 1989 - 27, 1999
"You are forever in my thoughts"

Weep not for me though I am gone, Into that gentle night..

Grieve if you will, but not for long, upon my soul's sweet flight.

I am at peace, my soul's at rest, there is no need for tears.

For with your love I was so blessed fro all these many years

There is no pain, I suffer not, the fear now all is gone.

Put now those things out of your thoughts

In your memory I live on.

Remember not my fight for breath, remember not my strife

Please do not swell upon my death, but celebrate my life.
In loving memory of my beloved Toshi. May he rest in peace until we meet again
Waiting for Jackie and Frank
I stood by your bed last night, I came to have a peep,

I could see that you were crying. You found it hard to sleep,

I whined to you softly as you brushed away a tear

"It's me I haven't left you, I'm well, I'm fine, I'm here."

I was close to you at breakfast, I watched you pour your tea,

You were thinking of the many times your hands reached down to me.

I was with you at the shops today, Your arms were getting sore.

I longed to take your parcels, I wish I could do more.

I was with you at my grave today, You tend it with such care.

I want to reassure you that, that I'm not lying there.

I walked with you towards the house, as you fumbled for your key

I gently put my paw on you , I smiled and said "it's me"

You looked so very tired and sank into a chair

I tried so very hard to let you know , that I was standing there.

It's possible for me, to be so near you every day

To say to you with certainty " I never went away"

You sat there very quietly, then smiled, I think you knew..

in the stillness of the evening I was very close to you.

The day is over.. I smile and watch you yawning

and say "goodnight, God bless, I'll see you in the morning"

And when the time is right for you to cross the brief divide.

I'll rush across to greet you and we'll stand side by side.

I have so many things to show you, there is so much for you to see.

Be patient, live your journey out.. then come home to be with me.

Anon
July
Boone
August 12, 1997 - July 1999
Loved by Robert, Teresa, Andy, Chris and Chance
Dearest Boone
Not a day goes by that we don't think of you and feel your presence in our life. You blessed us in so many ways. We loved your gentle spirit, looking into your clear eyes, holding you beautiful head in our hands, feeling your sweet fur on our faces. We miss your gentle nudge your games, your goofy ear. You took such goof care of us and especially little Chance. Even though we had such a short time together- we are forever changed by your goodness. We are honored to have been allowed to know you, to love you, and care for you. We know that you are now in a safe and happy place, playing with Heather and Kateie and that our souls will come together again as a family. Unitl then sweet Boone. God Bless you.

Waiting for Robert, and Teresa Holt

Andy and Chris,

Chance and Ricky.

Dottie

July 5, 1999

Waiting for Preston and Reba

Francis

July 15, 1999

Waiting for Donna

Jojo

July 21, 1999

Waiting for Barb and Shaun

Foxy

May 27 1988 - July 28 1999

Waiting for Connie

August

TJ

August 5, 1999

Waiting for Kristina

Kit

July 3 1993 - August 6 1999

Waiting for David

Phoenix " Fuzzy Fontaine"

March 28 1993 - August 12 1999

"You are my sunshine, my only sunshine". I miss you so much sweet Angel Your gentle spirit, your zest for life, your beautiful face. I miss our walks, ball playing, coming home ot you, your happy wagging tail and smile. You taught me so many things in this life. You are my kindred spirit. I am forever grateful for having you in my world. You will be in my heart forever, our bond will never be broken. Wait for me, I'll join you soon. We'll never again be parted

Waiting for Susan, John and Kittyface.

Ashby

August 16, 1999

Waiting for Donna

McLucky

September 1, 1994 - August 31, 1999

My heart aches to hold you once again

In memory of our sweet brown eyed boy

who raced into our hearts

Waiting for Patti and Ron Trakney

"Grieve not

nor speak of me with tears

But laugh and talk of me

as if I were beside you

I loved you so.........

'twas Heaven here with you.

Isla Paschel Richardson

Buffy's Little Lord CGC, ASC-CD

Casey

August 26, 1992 - September 4, 1999

God had a dog,

his name was Casey

He gave a whistle and called him back home

Waiting for Cindy an Janine

Splash

September 2, 1995 - September 6 1999

Waiting for Sonja

Maggie Dog

September 6, 21999

Waiting for Dee, Harold, Danny and Mikey

Sunabane Bhrathair

Noddle

January 30, 1988 - September 9, 1999

Waiting for Sharyn

Georgian Crafstman CD WD

Preston

June 14, 1999 - September 9, 1999

Waiting for Karen

Brownie

September 10, 1999

Waiting for Alice

Stanley

September 22, 1999

Waiting for Greg

Kita

April 1992 - September 1999

"In my search for Rainbows end

I found not gold but you my friend"

Waiting for Debbie, Brandy Bugs and Boose

Georgia

"Beauty Dog"

August 1998 - September 1999

Waiting for Scott

Maggie

September 30, 1999

Waiting for Marilyn